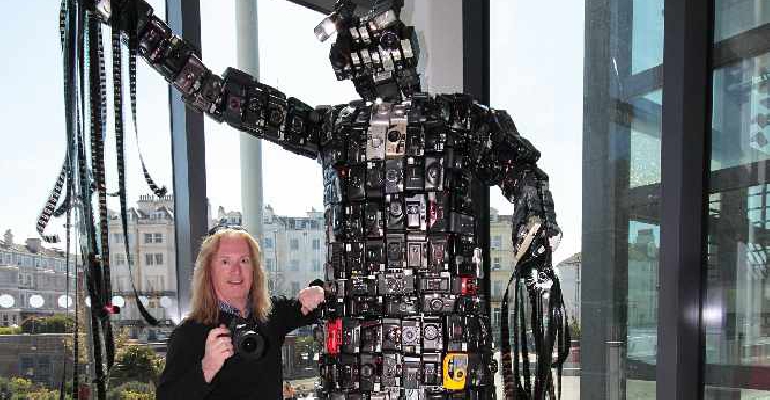 The creation was made by a local photographer who was looking for something to do in lockdown and is now displayed at the town's Visitor Centre.
Eastbourne photographer Paul Spink sourced hundreds of cameras from ebay with the aim of constructing the giant snapper in his living room.
Collaborating with friend Laurie Buckingham on the skeleton, he designed and created the quirky new 3D collage which now takes pride of place at the Visitor Centre entrance in Eastbourne.
The exhibit is made entirely of 35mm cameras and rolls of film.
Avid photographer Paul said:
"The world of photography has changed so quickly, I was keen to illustrate this shift in technology and provide a nostalgic look at the cameras we all used in the past, a time when we had to wait for the films to be developed into prints.
As a photographer myself, I typically take over 1,000 digital shots at a dress rehearsal - imagine how tricky that would have been back in the day with only 36 shots on a roll of film!
Its great to see my new creation on display and I hope it provides some inspiration to many other keen photographers."
The installation is available to view at the Eastbourne Visitor Centre which is now open daily from 9am to 5pm in the Welcome Building.