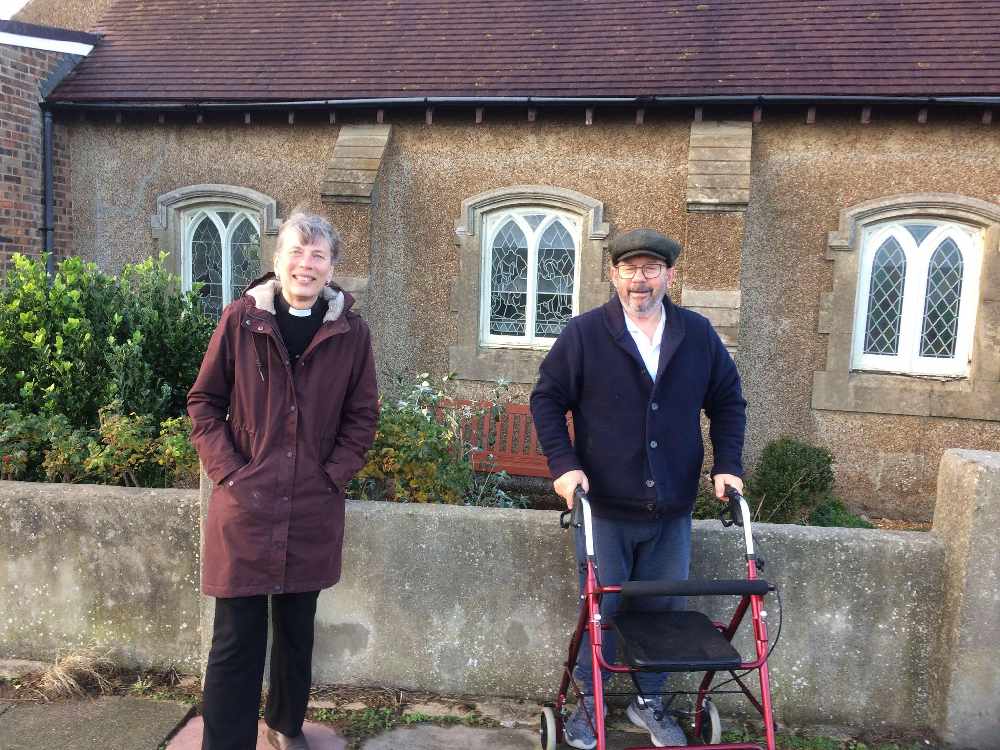 A church fundraiser, who uses a walking frame, will be doing a sponsored walk to raise funds for the church hall restoration project.
Sixty-six-year-old George Hickman suffered severe complications after a routine hip replacement.
He's also still recovering from the lasting effects of Covid-19, several months after being placed in Worthing Hospital's Intensive Therapy Unit (ITU).
Despite having to use a walking frame he's decided to raise funds for the Church of the Good Shepherd in Shoreham.
He'll take a seafront route from Shoreham Fort to the church on Tuesday, October 24, to raise vital funds for their hall restoration project.
He will be accompanied on his walk along the beach boardwalk by the Rev'd Jane Bartlett, the Church's Associate Vicar.
George said:
"I'm still suffering from the effects of Covid-19. Tiredness is the worst thing.
"Where it will end, I have no idea but I'm alive and glad to be.
"God has his intentions for me; what they are, I have no idea, but he keeps pointing me in the right direction."
George has organised the two-mile walk to raise the £2,000 required for brickwork repairs at the church hall.
Rev'd Jane said:
"I'm honoured to be accompanying George on his sponsored walk. I will be carrying his medical kit and making sure he doesn't overdo it.
"Our hall is a much-used community facility. It's an important place on Shoreham Beach, hosting children's groups, social groups, committee meetings, exercise classes, art classes and more.
"It's vital we maintain it in good order, but the church's finances have been hit badly by the pandemic, so we need some help from the community.
"Well done to George for coming up with this fund-raising idea. I do hope that people will feel moved to give and we will reach our target."
George may have to undertake the walk in stages as he suffered serious complications after routine hip replacement surgery in 2012.
Since then he has been in and out of hospital on eight occasions, undergoing treatment and surgery.
He now, however, heads the fund-raising team at the Church of the Good Shepherd - or the "fun-raising" team as they prefer to be known.
George said:
"The team is brilliant, and I am so proud to be working with them all. We are doing wonderful things for the church, with of course the aid and assistance of the local community."
Despite the constraints of Lockdown, the fund-raisers have raised over £2,140 through a series of events, including a bike repair service; pop-up sales; website cash back; a quiz and an outdoor art show.
George has set up a JustGiving page and donations are already pouring in: https://www.justgiving.com/crowdfunding/george-hickman