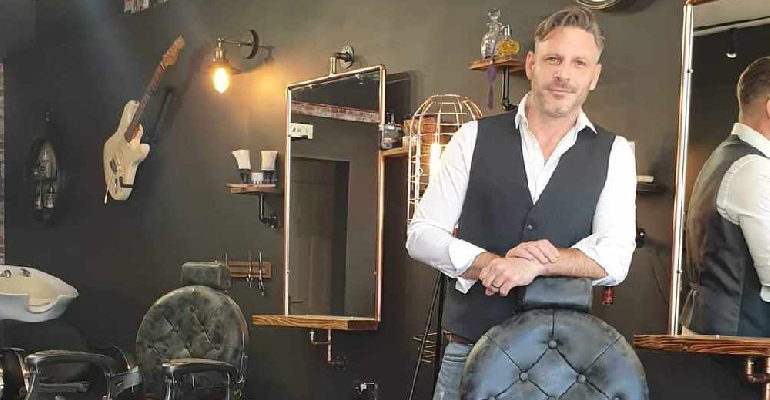 A Seaford barber has said anyone can call the number if they're feeling lonely or need someone to talk to during the pandemic.
Jonathan Lodge, 44, decided to open "The Barbers Lodge" on the High Street in Seaford during the first national lockdown. It was back in February 2021 when he installed a central shop phone and posted on social media:
Mr Lodge told More Radio:
"I was working a lot on my own in the shop. I realised because I was spending time there and I knew so many people in the community that it would be nice if I let them know when I was there. I handed out the shop phone number so they could ring if they needed a chat. It didn't need to be serious counselling or anything. There's a lot of people alone in the community. You'd be surprised at how many people did ring. Or even just text. As men are, it started as "Oh how are you?" and before you knew it we were having a big deep discussion, just as you do as a barber on the shop floor. It was really nice to connect."
He added:
"I had a fair few calls. But even just one would've meant it was worth it. The response on social media has also been really warm and the calls that have come in have been really good. I think people like it that you're not there to milk the community but you're part of the hub and just as human beings we are all connected."
With England's lockdown restrictions easing on Monday (April 12) Mr Lodge is looking forward to re-opening The Barbers Lodge. When asked if the phone line would stay open, he said:
"I haven't discontinued the premise and I never will, to be honest. Whether someone is in my chair or not, a true barbershop is an open home of the community and so it should always be."
Since opening up the phone line Mr Lodge has been approached by Brighton University to take part in a study about the importance and role of barbers in mental health.
Mr Lodge has also spent his time during the pandemic paying tribute to nurses, carers and key workers from his barber shop.