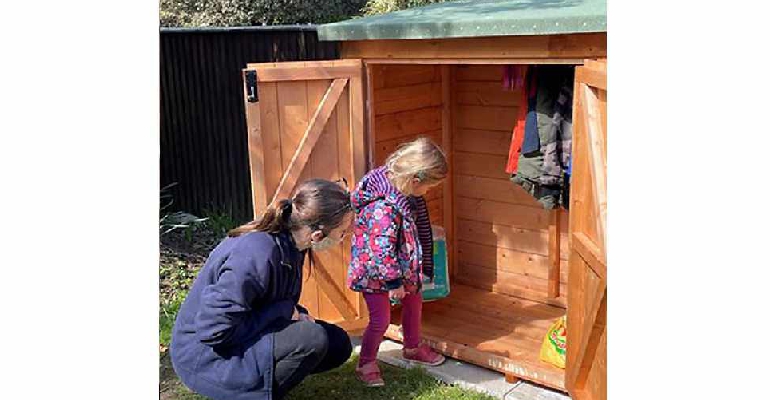 Apolline Clift donating some nappies to the swap and share, helped by new Blue Door Nursery apprentice Lauren.
A nursery in Seaford has set up a shed in it's front garden for people to swap new and nearly new, unwanted items.
Blue Door Nursery in Wilmington Road, which was recently shortlisted for UK Nursery of the Year, started the scheme to help families affected financially by the coronavirus pandemic.
It's also hoped that it will increase the sustainability of items that could be rehomed.
Newhaven garden centre Paradise Park donated the small shed for the donated items to be stored in.
Nursery owner Rebecca Swindells said:
"After the last few months we are pleased to say that the nursery is thriving after this unsettling and scary time - hopefully we have seen the last of 'lockdowns' and we are finally moving forward with positivity!
"However, we know that for some people things have been tricky and we have been thinking as a team of what we could do to help our Blue Door families.
"Additionally, we have had a lot of donations of high-quality clothes and equipment recently as children have grown out of things before they have had a chance to really use them. Putting our thinking caps on we have come up with 'Blue Door Swap and Share'.
"With the very generous support of Paradise Park who have donated a small shed to us we have set up a 'swap and share' unit in the front garden"
Darren Clift, Director at Paradise Park, added:
"This sort of local community project is the kind of thing we love to support, and we were only too happy to provide a space for the parents associated with Blue Door to share unwanted items with those who may need them.
"In fact, I have brought half a pack of nappies with me today to pop in the swap and share station!"
Parents have reacted with positively to the idea, and donations have already started to come in after just a few days.