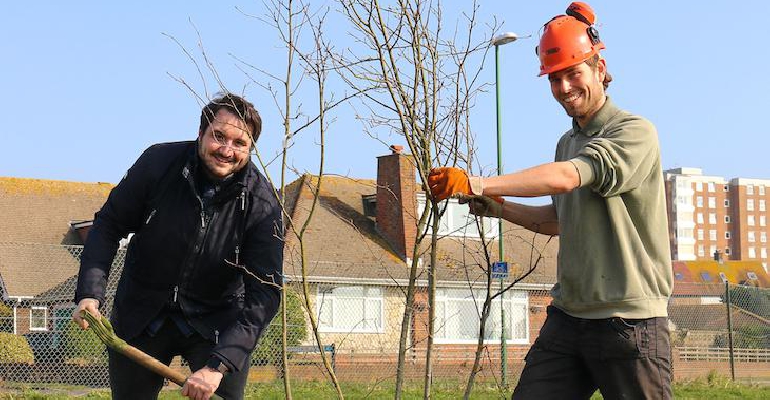 Cllr Edward Crouch planting a tree at Brooklands with Park Ranger Craig Ifield
A variety of trees will be planted at Brooklands Park - as it begins its journey of transformation which started with the improvements to the lake two years ago.
46 trees are being planted along the Western Road edge of the Park, including mature blossom trees such as Amelanchier lamarckii, a small deciduous tree which will show showy white flowers in May, red to purple fruits and often beautiful colours in the autumn.
Joining these will be a mixture of large and smaller specimens of apple and berry bearing trees which aim to support the bird population making their homes in the park.
In recent weeks Adur and Worthing Councils' ranger team have worked with the Friends of Brooklands Park to install around 58 bird boxes, which were made by local community group Men in Sheds Lancing and Sompting.
The tree-planting work will be carried out by the rangers team and Friends of Brooklands Committee members. As the trees being planted are larger trees, they will act as a sound barrier from the road and will block both noise and pollution from the busy Western Road, and the industrial estate.
Council Park Rangers Craig Ifield and Anthony Read with Cllr Edward Crouch
Meanwhile, a new partnership project called 'Bees and Sea's is swinging into action, taking over a corner of the park to create a learning wildlife haven. The Friends of Brooklands Park, along with non-profit Creative Waves and community organisation Food Pioneers are working together with Worthing Borough Council to create a dedicated eco-friendly space to attract pollinators', which play a vital role in creating and maintaining the local ecosystem.
Work to further develop the Brooklands Park Master Plan will commence in the autumn including the construction of the new visitor hub, cafe, and adventure play area once tenders are released to the market for contractors.
The plan for the redevelopment is to create a science nature park with the emphasis on fun learning, supporting the STEM school curriculum, while also encouraging wellbeing through outdoor activity.
Cllr Edward Crouch, Worthing Borough Council's Executive Member for Digital and Environmental Services, said:
"I'm delighted to be able to be joining our park rangers and the dedicated representatives from the Friends of Brooklands group in planting these trees at Brooklands Park.
"While the pandemic caused some delays to our plans, we are committed to the Brooklands Park Master Plan which will deliver this open space to our jewel in the crown.
"This tree planting and the fantastic developments taking place in the north of the park with the Bees and Seas project prove our resolve to reinvigorate and reshape Brooklands Park."