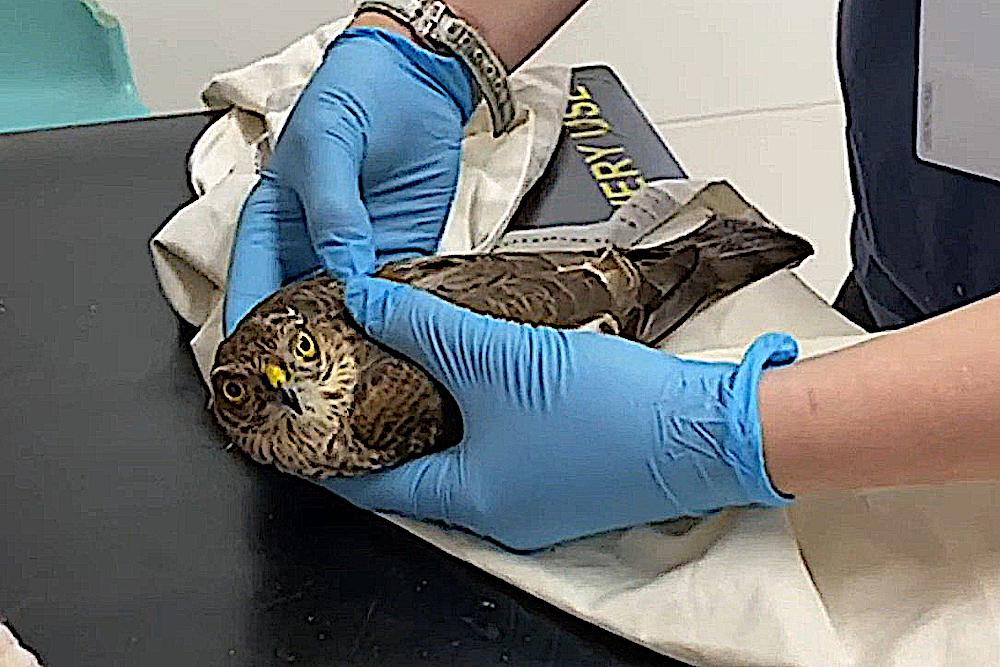 Sparrowhawk. Photo from ESWRAS
"We are all run ragged at the moment and the situation is at breaking point," says East Sussex Wildlife Rescue and Ambulance Service (WRAS), which is appealing for help to build a new centre.
Trevor Weeks of WRAS, said:
"We mean no criticism to any of these organisations as we fully understand their actions, but with RSPCA Mallydams Wood now temporarily closed, the National RSPCA only operating a reduced service and no out of hours service, Rogers Wildlife Rescue permanently closed and Bird Aid at Hailsham currently only able to admit a greatly reduced number of gulls, it is falling on East Sussex WRAS, Brighton & Hove Wildlife Advice and Rescue Service, Seahaven Wildlife Rescue, and other groups and individuals like Justin King trying to pick up the pieces."
He says the situation in East Sussex has now reached crisis point, with birds suffering as people struggle to find expert help:
"People are giving up trying to get help for abandoned, sick, injured and orphaned gulls because it is becoming so hard (to find anywhere to go)."
Current restrictions on helping gulls due to a rise in Avian Flu cases has meant many gulls are suffering "a horrible death" as vets often won't allow them to be brought into their surgery to be euthanised (put down).
Week says the loss of facilities in the county has meant WRAS has been busier than ever, helping to compensate for the loss:
"We are all run ragged at the moment and the situation is at breaking point. Before Rogers Wildlife Rescue closed down organisations were already struggling every year. WRAS year on year has expanded its facilities to help cope. With Rogers Wildlife now closed, wildlife rescue services in East Sussex are at crisis point and that is before Avian Flu started causing problems - now wildlife casualties are suffering because the resources are falling far short of what is needed.
"Wildlife Rescue services are so underfunded and under appreciated and there is such a high demand on our services and I am not surprised that so many birds are now suffering as a result."
"We are caught between a rock and a hard place as, if we bring Avian Flu into our centre, the rest of the birds and potentially even the mammals will have to be euthanised. At the same time we don't want the birds in the wild suffering. This is a no win situation.
As one of the biggest animal hospitals in East Sussex, they're planning to build a new Casualty Centre in the heart of the county, but they currently need another £150,000 to help buy land for the project:
"We aim to eventually be one of the biggest wildlife hospitals in the country with veterinary science and compassion at the forefront of what we do.
"This facility would have proper isolation facilities so that in crisis times like this there would be no risk to the casualties in care and we would still be able to admit and guarantee treatment without the threat of all our casualties being euthanised."
He's appealing to local businesses, community groups, councils and the community to help them achieve this goal, so that "the whole county of East Sussex is covered from Hove across to Hastings and beyond and people can rest assured that eventually there will always be somewhere for them to go."
To make a donation to East Sussex WRAS please do so on line at http://wildlifeambulance.org/donate/hospital/ , post donations to East Sussex WRAS, PO Box 2148, Seaford, BN25 9DE payable to "East Sussex WRAS".
Weeks says if they can build a bigger facility, thousands of casualties will be saved from being left to suffer or being taken to a local vets to be euthanised.