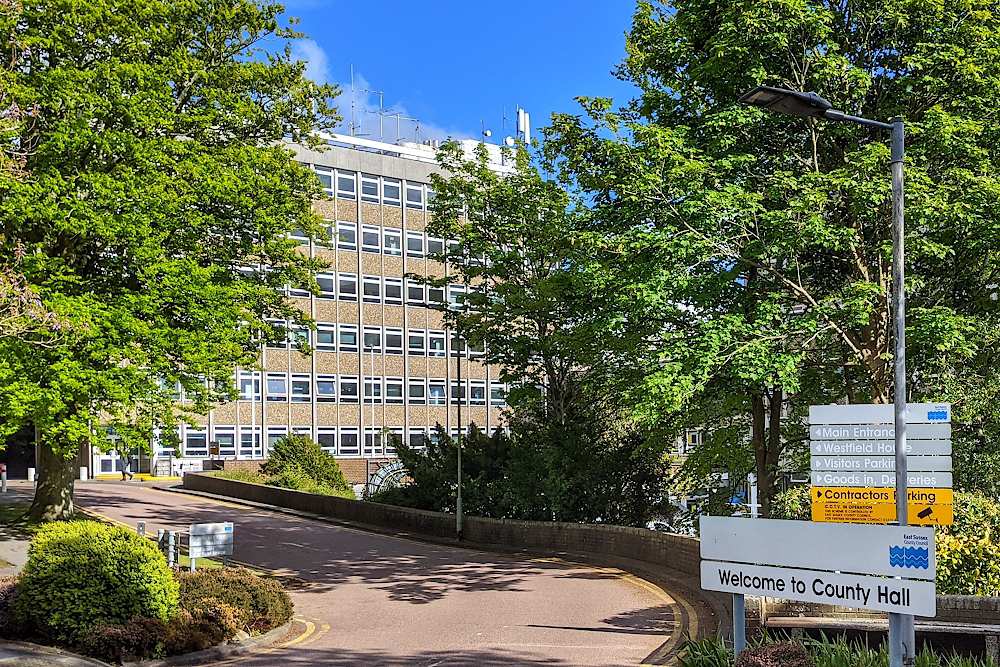 County Hall, Lewes (Photo: © John Warburton)
County councillors have voted down proposals to withdraw the East Sussex pension fund from fossil fuels investments — but only just.
On Monday (July 12), the East Sussex pension committee voted three-to-two against a proposal to completely divest the pension fund from oil and gas producers.
The proposal was put forward by Cllr David Tutt (Lib Dem), as the committee reviewed its investment strategy for the coming year.
Cllr Tutt said:
"I drew attention last year to what I consider to be the risk in fossil fuel investment, given the awareness around the world of the need to address climate change.
"That awareness, I believe, has increased even further over the past 12 months, with governments around the world recognising to a greater or lesser extent the need to do something."
He added:
"I would like propose that we go further today in terms of the changes we are making and that we divest, certainly our active portfolio, completely from fossil fuel investments and we move that into green infrastructure investment instead."
The proposal was backed by Green Party councillor (and long term climate campaigner) Julia Hilton, who argued the divestment would both send an effective message and be financially responsible due to the risks posed by climate change.
A very different view was taken by the committee's chairman Gerard Fox, however, who argued that engagement with companies through investments was a more effective way of addressing climate change than divestment.
He said:
"I don't agree that engagement makes no difference.
"Scope 3 emissions wouldn't be on the agenda for oil companies if it wasn't for the IIGCC (Institutional Investors Group on Climate Change).
"Something like half of the IIGCC's target companies have agreed to align their activities with a 1.5°C pathway.
"Engagement does work and the escalating engagement … is something which our managers are all committed to."
Cllr Fox went on to highlight how the fund had significantly reduced its investments in fossil fuels over the past five years.
At the same time, he said, the fund had been making investments into renewable energy and other climate friendly areas.
He also raised questions about whether it would be responsible to agree such a proposal without technical advice from officers.
Cllr Fox added:
"What we are talking about effectively is whether we give agency to the funds we pay to manage our money or whether we start to tell them what to do.
"There is no structural risk to the fund from fossil fuels in its current disposition and there certainly won't after the changes that you approved today.
"We are beginning to fixate on this subject for whatever reason, when I think we should be more worried about thinking about the opportunities for renewables and infrastructure we might invest in, which would be a much, much larger part of the portfolio than the relatively resilient parts which have tactical fossil fuel exposure."
In response, Cllr Hilton said:
"I understand that we now only have a small percentage [of fossil fuel investment] and that is very good.
"But your point about why are we obsessing about this; it's because they have a central role in driving climate change and they need to be singled out in the fund's approach to climate risk.
"It is also about signalling as part of our engagement and escalation strategy that we actually mean business.
"Yes, it is great we are moving into renewables, but let's show some leadership and say we are doing that move but we are also signalling and saying 'we realise these companies are actually driving climate change and we need to not be invested in them.'"
After a lengthy debate and discussion, the proposal was voted down three votes to two.
The decision was criticised by Divest East Sussex, a campaign group which has long called on the fund to totally divest from fossil fuels.
A spokesperson for the group said:
"Divesting the East Sussex Pension Fund from fossil fuel companies would send a powerful signal to policymakers to finally get serious about tackling the climate emergency, which will require the rapid phasing out of fossil fuels.
"By clinging on to its investments in fossil fuel companies the East Sussex Pension Fund is missing a huge opportunity to show real leadership on the climate crisis. It's time for ESCC to commit to fully divesting the East Sussex Pension Fund from fossil fuels."