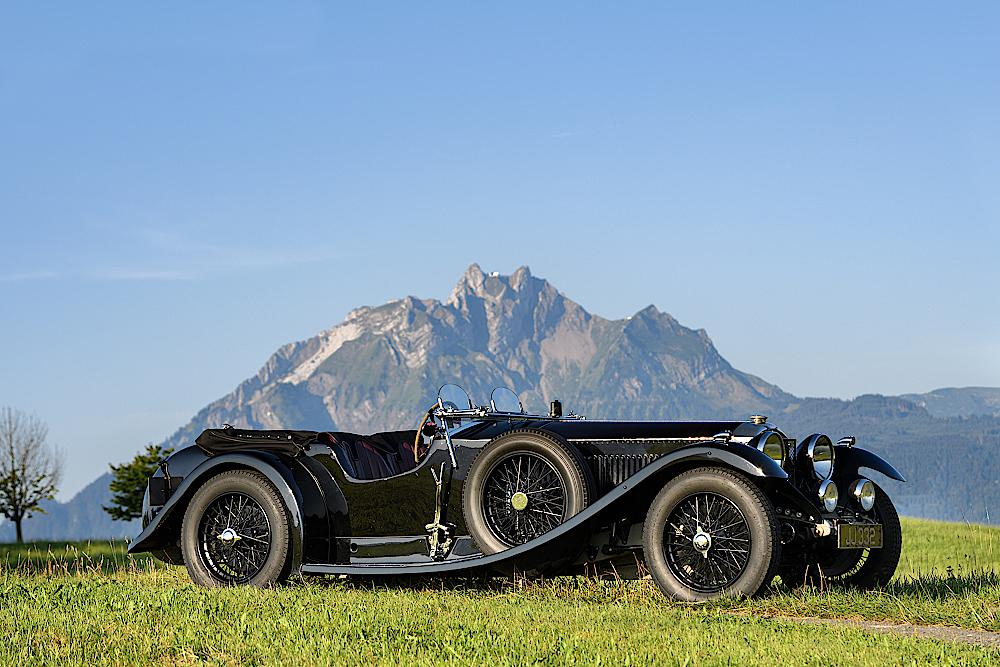 1931 Invicta 4.5-litre S-Type Low Chassis Sports model, the S90 "Simplon" (Photo: © Bonhams)
A sports car made in 1931, and valued at between £1m and £1.2m, is among 24 classic vehicles to be auctioned at Goodwood in West Sussex this Saturday (October 17).
According to auctioneers Bonhams, the 1931 Invicta 4.5-litre S-Type Low Chassis Sports model, the S90 "Simplon" is one of only 68 known survivors of a 75-car production run.
It was once owned by 1950s Hollywood film star Tyrone Power but, before then, it raced at Brooklands and in the Ards TT.
The vehicle forms part of a collection called the "Alps To Goodwood" collection, which the auction house said "reflects the passion of one man for using motor cars as they were originally designed — driver first, collector second".
This collection also features two particularly interesting Bentleys: the first, a 1954 R-Type Continental, estimate £800,000 - £1,000,000, was one of twelve prepared by Padgett Motor Engineers to incorporate a range of performance and driving upgrades, all with usability and continental touring in mind.
The final highlight is a 1926 6.5/8-Litre Tourer, estimate £600,000 - 800,000, which is a true adventure waiting to happen for its next custodian.
One of the most extensively-travelled Bentleys the Bonhams team has encountered, it has competed in some of the world's most gruelling motorsport events, such as the 13,000km Peking-Paris rally, the 8,500 km Carrera Sudamericana and the Mille Miglia USA.
It is offered with a complete set of parts for marathon rallying.
The Alps to Goodwood collection represents not only the finest touring cars but also entries into the best historic motorsport tours and rallies, both competitive and recreational.
Together, the cars are said to be an "assembly of some of the greatest touring cars ever built, in which the vendor has competed in more than 200 prestigious and challenging historic events and long-distance rallies across the world".
But this is only one of three collections being auctioned.
Two other sets of vehicles include a recently-restored 'James Bond' 1964 Aston Martin DB5 Sports Saloon, finished in silver birch, estimate £700,000 - 800,000, and a rare 1969 Ferrari 365 GTC Coupé, estimate £500,000 - 600,000, one of 26 right-hand drive versions.
The three collections will go under the hammer on Saturday 17 October, as part of the 100-strong collectors motor cars sale, which also includes a 1967 Ferrari 330 GTS, with coachwork by Pininfarina, estimate £1,200,000 - 1,500,000, one of only 100 examples; a 1991 Ferrari F40 Berlinetta, estimate £900,000 - 1,300,000, and a 2013 RUF CTR 3 Clubsport, one of only seven produced, estimate of £600,000 - 900,000.
Alps to Goodwood Collection
1931 Invicta S-Type Low Chassis, £1,000,000 - 1,2000,000
1954 Bentley R-Type Continental Sports Saloon, £800,000 - 1,000,000
1926 Bentley 6.5/8-Litre Tourer, £600,000 - 800,000
1959 Jaguar XK150 3.4-Litre, £80,000 - 100,000
1964 Alfa Romeo 2600 Touring Spider, £80,000 - 100,000
1961 Jaguar MkII 3.8-Litre Sports Saloon, £40,000 - 60,000
1936 Railton Straight Eight Tourer, coachwork by Carbodies, £30,000 - 50,000
1987 Cadillac Allanté convertible, coachwork by Pininfarina, £10,000 - 15,000
Chester Collection
1964 Aston Martin DB5 Sports Saloon, estimate £700,000 - 800,000
1969 Ferrari 365 GTC Coupé, £500,000 - 600,000
1972 Ferrari Dino 246GT Berlinetta, £250,000 - 300,000
1966 Aston Martin DB6 Sports Saloon, £230,000 - 260,000
1962 Maserati Ghibli 'SS' 4.9-litre Coupé, £200,000 - 250,000
1954 Mercedes-Benz 300SL 'Gullwing' Evocation by Ostermeier, £200,000 - 250,000
1960 Mercedes-Benz 190SL convertible with hardtop, £100,000 - 120,000
1964 Alfa Romeo Giulia Sprint Speciale, £75,000 - 85,000
1962 Lotus Elite Series II Coupé, £70,000 - 80,000
1964 Chevrolet Corvette Stingray, £50,000 - 70,000
Collection of a Respected Gentleman Racer
2005 Mercedes-Benz SLR McLaren Coupé, one owner from new, £220,000 - 280,000
The ex-Mike Spence, Tony Settember, John Campbell-Jones, Jack Fairman, works,1961 Emeryson 1.5-Litre Formula 1 Single-seater, £150,000 - 200,000
1987 Ferrari 328 GTS Only 6,000 miles from new, £89,000 - 130,000
1992 Ferrari 512 TR Coupé, £80,000 - 120,000
1997 Ferrari 456 GTA Coupé, formerly the property of the Sultan of Brunei, £80,000 - 120,000
1959 Ford Zephyr MkII 2.4-Litre Competition, £40,000 - 60,000