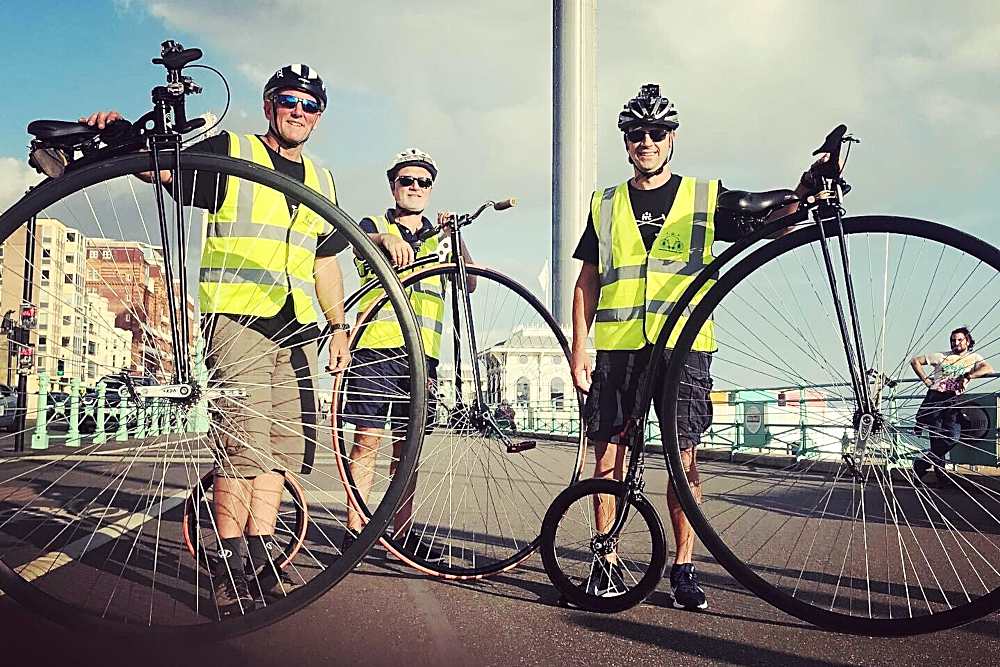 Neil Laughton, Mark Newman & Will Laurie, before their Brighton to Bournemouth Pier on 2nd August
On Sunday 2nd August, three Sussex businessmen will begin a charitable "century" challenge to ride penny farthing bicycles from Brighton to Bournemouth.
They'll be raising funds for Hove's The Starr Trust Charity, which helps local young people develop their potential in art, sport and education.
Neil Laughton, a Sussex based adventurer and leadership coach, said he expects to be joined by fellow riders Mark Newman and Will Laurie on the lengthy journey with an anticipated arrival time, at Bournemouth Pier, approximately 14 hours after they set off on Sunday morning.
According to the charity, Neil holds three Guinness World Records for his adventures on Penny Farthing bicycles, and has invented this challenge to help launch a new fundraising programme, the "Starr 100 Challenge Bike Rides".
These are one-day cycling challenges with a choice of West or East Sussex routes.
Charity staff and volunteers have invited anyone interested to sign up to take part on 3rd and 4th October 2020.
Their West Sussex Bike Ride Challenge will take place on 3rd October starting and finishing at Shoreham Airport.
The East Sussex ride will start at Devil's Dyke and finish at the BA i360 on 4th October.
In publicity, the charity said rides will be accessible for different levels, with an option for 100 miles or 100 kilometers, with assistance from mobile bike mechanics Browns Bikes from Worthing.
Neil Laughton said:
"It will be excruciatingly painful and somewhat challenging on the open roads.
But, if you spot us, please give us a friendly hoot and make a modest donation if you can".
Chairman of the charity Rob Starr, added:
"Due to nearly all of our fundraising events being cancelled this year, our small charity is facing a loss of around £80,000.
"Vulnerable local young people rely heavily on the funding they receive from us, to enable them to continue with their individual development programmes.
"They need our help now more than ever and we are very grateful to local individuals such as Neil and his comrades for kindly supporting us with this exciting 'super-sized ride'."
The trust has on-line information: www.starrtrust.org/events