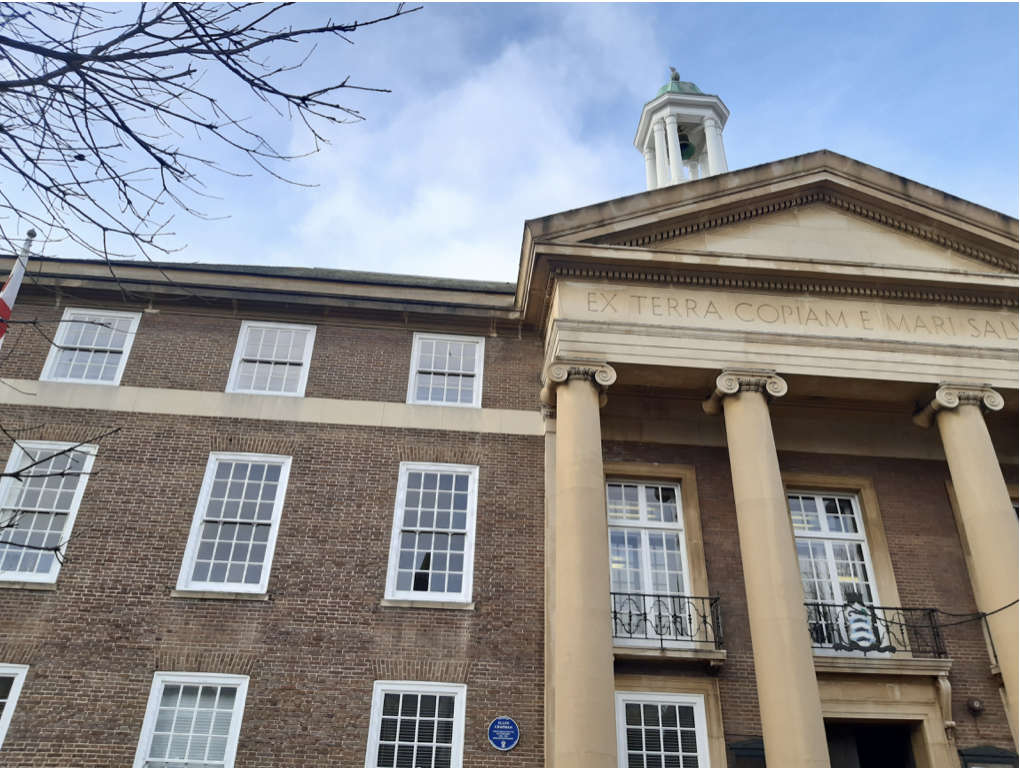 Photo By Jessica Hubbard
Worthing's Conservative group leader has called for a Labour councillor's suspension after they wore a 'grossly insensitive' t-shirt, but the councillor in question has since apologised.
Kevin Jenkins (Con, Goring) called on Worthing Borough Council's Labour leader, Beccy Cooper, to suspend a councillor after they were pictured wearing an 'insensitive' t-shirt.
Gaisford ward councillor Dale Overton was pictured at the London TUC rally on Saturday (18 June) wearing a t-shirt with the acronym 'CCCP'.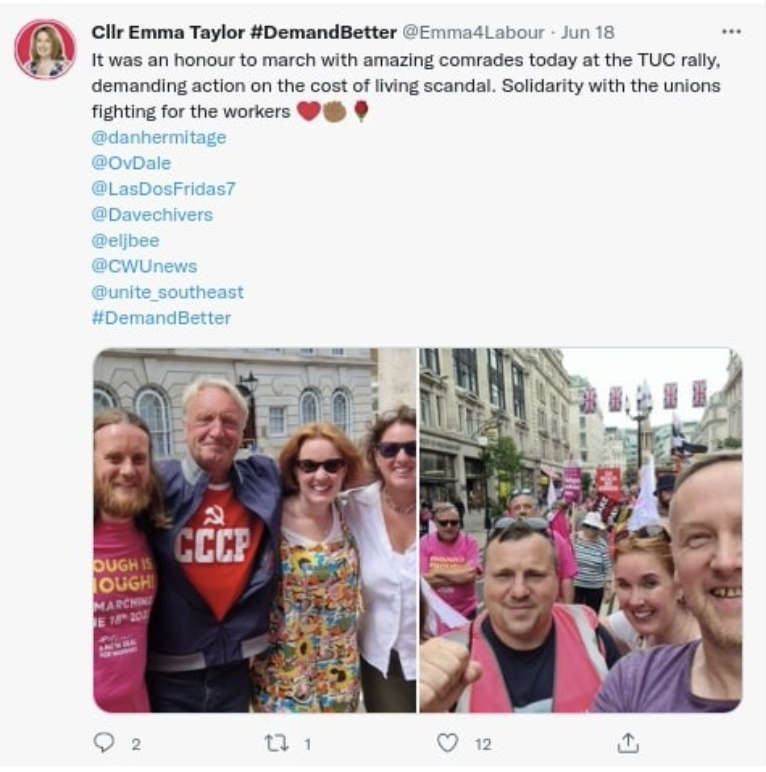 CCCP is the Russian acronym for the USSR (Союз Советских Социалистических Республик), also known as the Soviet Union – a communist state which existed for a large part of the 20th Century.
In light of the recent invasion of Ukraine by Russia, Mr Jenkins called the t-shirt 'grossly insensitive' and says he has been approached by residents 'expressing shock and horror'.
In an open letter to WBC leader Beccy Cooper, Mr Jenkins said:
"Worthing Borough Council proudly flies the flag of Ukraine outside the Town Hall and across the town in our show of solidarity with Ukraine and its suffering. Our staff are working hard to support those very refugees as they come into our town.
"To observe one of our own councillors overtly wearing such a garment that purports to support the CCCP/USSR whilst this conflict remains unresolved is grossly insensitive … and risks bringing our council into disrepute.
"Being elected as a councillor is a privilege, one not to be taken lightly, one that when we hold that public office we accept that our actions must always be of the highest ethical standard and for which we must expect to be scrutinised to a greater degree than others around us.
"I therefore call on you, as leader of our council, to show strong leadership, to respond positively and suspend councillor Overton and conduct an inquiry into his behaviour."
Dr Cooper said the Labour group will 'not be taking further action against Mr Overton' whom she says has 'proved himself to be an enthusiastic new member of the council'.
In her response to Mr Jenkins, she said:
"[Mr Overton] attended the demonstration in a private capacity and the photographs referred to were posted on limited social media.
"I understand, however, that this could have caused offence to some residents who were made aware of it, and I have received a letter of explanation and apology from councillor Overton.
"I am happy that this fully reflects his views on the matter, and I am satisfied that the concerns raised by councillor Jenkins have been answered in full.
"Dale has proved himself to be an enthusiastic new member of the Council and I welcome the commitment he has brought to it in representing the real concerns of residents in his ward and across the town about the cost of living crisis and other matters which are of daily concern to them."
Mr Overton has since apologised and says he has 'binned the t-shirt'.
"Any offence caused was entirely inadvertent, but I fully apologise nonetheless for my insensitivity and for in any way impugning the reputation of Worthing Borough Council," he said.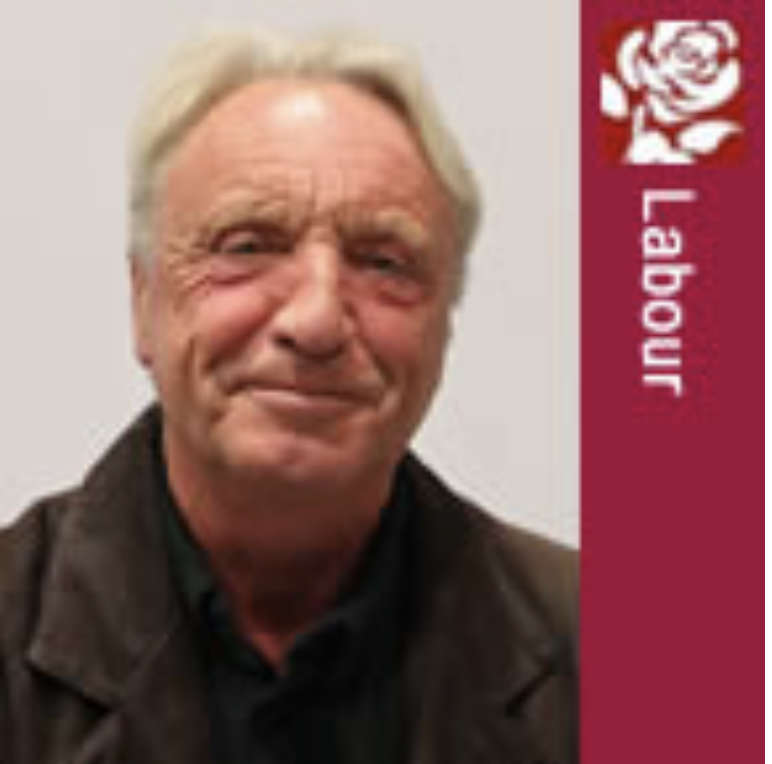 Dale Overton, Labour Councillor For Gaisford Ward, Provided By A+W Councils
"In response I have made a number of unreserved public and private apologies, stated my abhorrence of Putin's invasion, signed up for code of conduct training, donated to a Ukraine charity and binned the shirt.
"As a member of community organisations supplying food bank and school uniform services to various disadvantaged groups, I was in discussion only a few days ago on how services provided by the council to Ukrainian refugees could be enhanced and sped up. I will now redouble my efforts to support them."
Mr Overton said the shirt was given in 2019 as a 'slightly ironic gift' and he believes a 'line has been drawn' between the former Soviet Union and Putin's Russia.
He did however, claim a 'double standard' was at play due to national Conservative Party donations from Russian linked donors.
He said the call for his suspension was a 'sustained and needlessly public attack' which involved 'spreading a photograph far and wide which would otherwise have gone entirely unnoticed'.
"And for what? The sole aim of suspending a novice councillor for a clumsy first offence," said Mr Overton.
He replied in kind and called for Mr Jenkins' suspension.
A spokesperson for the West Worthing Conservative Association said it had received 'numerous complaints' about the t-shirt.