More Radio Live 2022 (Advance tickets)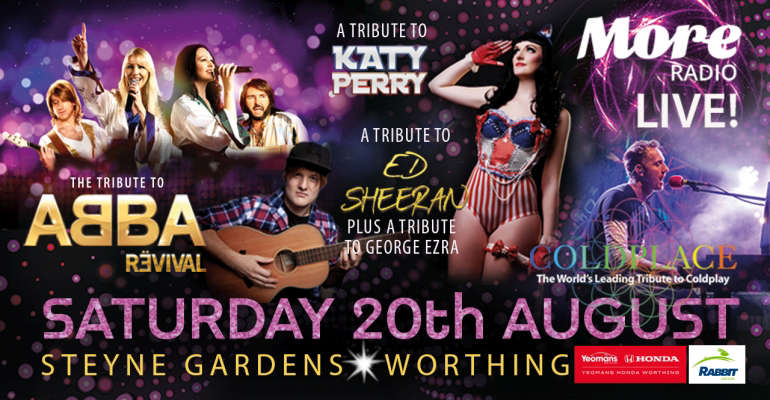 £20.00
£14.50
Remaining: 178
More Radio Live is back for 2022! Our advance tickets are now on sale to the biggest event of the year...
Taking place on Saturday August 20 in Worthing's Steyne Gardens, we've got a range of incredible tribute acts through the evening, including our headliners this year - Revival: A Tribute To ABBA and Coldplace: The World's Leading Tribute To Coldplay.
Additionally, we are excited to welcome to Worthing the award-winning Katy Ellis presenting her fantastic Katy Perry show. Complete with live band and dancers featuring stunning replica costumes and even the signature giant lollipop!
Finally, returning to Steyne Gardens this year is Tom White with his brilliant Ed Sheeran show and a tribute to George Ezra too!
You can now add our advance vouchers to the basket above and then follow the payment process.
Please make sure you read the terms and conditions and the below information carefully as they contain important information about the event. You can read the terms and conditions in full HERE.
THIS IS NOT YOUR PHYSICAL TICKET
IMPORTANT INFORMATION ABOUT YOUR TICKET - PLEASE READ CAREFULLY:
Please note this voucher is NOT your ticket for More Radio Live and attempting entry to the event with this voucher will not be accepted. This voucher is for receipt purposes only.
Your physical ticket(s) will be posted to you seven to ten days before the event - postage and packing is included in the cost of this voucher (£14 advance ticket plus 50p handling charge). Please note your ticket(s) will be sent to the address you provide when purchasing this voucher. Should your address details need updating please contact us at least 14 days before the event. Email [email protected] moreradiolive.com or call 01903 221890.
IMPORTANT: You will need to bring your physical ticket with you to the event to be admitted.
If you have not received your ticket up to 48 hours before the event, or have any other queries, you can contact 01903 221890 or email info @moreradiolive.com. Please email in the first instance - you will need to quote your name and ID number on this voucher when contacting us.
IMPORTANT: Please make sure you read our full terms and conditions HERE prior to the event.
Your News
It's easy to get in touch with the More Radio News team.