More Radio Live FAQ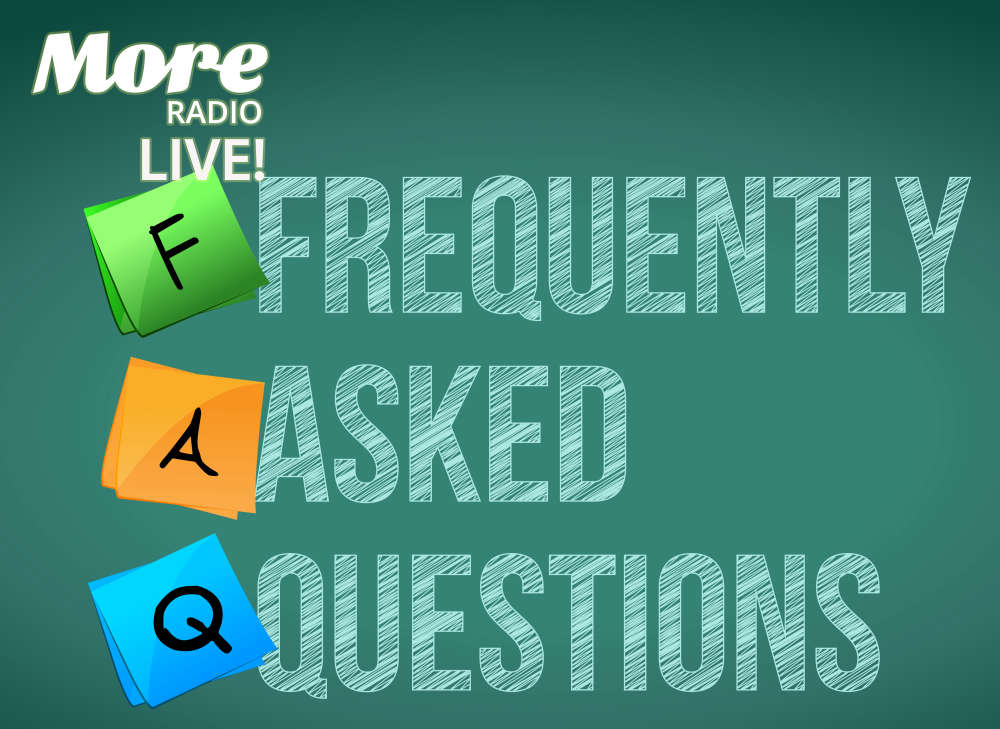 Your A to Z of More Radio Live of Frequently Asked Questions
Alcohol Policy
Please note: You will NOT be permitted to bring your own alcohol into Steyne Gardens. We reserve the right to stop and search and this may result in your admission being refused. No glass or cans may be brought in. You may bring in soft drinks, provided they are in sealed plastic containers. We reserve the right to refuse any open plastic to be brought into the event, if it is suspected of containing alcohol.
Bags
In the interest of everyone's safety, please KEEP TO A MINIMUM the amount of items you carry in with you. Please do not bring boxes and rucksacks. Please use simple open bags, as this will speed up the process of checking them upon your arrival.
Car Parking
We regret no public car parking is permissible physically on Steyne Gardens. Very limited Public on-street parking (free from 6pm) may be available Worthing Borough Council and NCP have a number of car parks located nearby. The nearest is the Multi Story Car Park in High Street, Worthing (adjoining the Guildbourne Centre).
Catering Facilities
More Radio Live will feature a range of hot/cold food, ice cream, specialist coffees, soft drinks and alcohol will be available to purchase at Steyne Gardens.
Chairs
No seating is provided at this event. Most guests choose to view the concert picnic style on their own blankets. We will allow you to bring in camping chairs, if you need to, because of limited mobility. However if you do, please be considerate not to obstruct the view to others behind you.
Children Attractions
More Radio Live is a fun-filled family night out. As well as 5 hours of great music, with our younger guests in mind, there will be a large inflatable to play on and the opportunity to get their face painted! Illuminated toys will be available to purchase too.
Contact us
For all general enquiries, Please email: [email protected] moreradiolive.com or call 01903 221890 leave us a message on the answerphone if calling outside office hours.
Covid 19
We have detailed our policy relating to Covid 19 on our T&Cs page see here
We recommend you check this in the days leading up to the 21st August, to ensure you see the very latest guidance and policies as set out by local and national government. We will be providing hand santiser areas but would encourage you to bring your own hand sanitiser (250ml max).
Disabled Facilities
A 'limited area' has been reserved on the Western side of Steyne Gardens (near the stage). This is specifically for disabled guests and their carers. A disabled toilet will also be available in this area. If you or a member of your group has a disability please contact us (as above). Tickets allowing access to this area are NOT available for purchase online, as we require evidence to support your application to be in this area. There will be a car drop off facility close to the Northern entrance (Brighton Road) and there is a concrete path round to the disabled area from this entrance, this makes it wheelchair accessible. Parking will be very limited near Steyne Gardens and we understand that blue badge holder are NOT entitled to park on double yellow lines for periods greater than 3 hours. See https://www.adur-worthing.gov.uk/parking/disabled/
Entrances and Gate Opening Times
There will be two entrances both on the southern end of Steyne Gardens. Queuing should be on the grassed area south of the fenced arena area. The gates will open at 5pm*, with first performance due to commence at 6pm. Food, Drink and Toilet facilities will be available from when the gates are opened.
Face Coverings
For the latest guidance please check https://www.gov.uk/coronavirus Whilst the easing introduced on 19th July dispensed with the mandatory wearing of face coverings (when in close proximity to others) you should consider wearing one in any areas where you are close to other people. This could include queing at the bar, food oulets and, if using public transport, your travel to attend this event. Finally, of course you are welcome to wear a face covering at all times at this event.
Filming
Please note both still photography and video recording will take place at More Radio Live. By purchasing a ticket you agree to being filmed "as part of the audience". Note: You may not undertake any professional filming without our written consent. More Radio and its associates reserve the right to publish images taken in any media (including the internet).
First Aid
St Johns Ambulance will be in attendance throughout the More Radio More Radio Live. In the event that you require first aid attention, please yourself known to St John team or our security stewards who will be in radio contact with St John. Alternatively and if possible, make your way to the St John's Ambulance team at the Southern end of Steyne Gardens.
Food
Hot food (Pizza, Thai, Burgers,Donuts) plus frothy coffees and Ice Creams will available to purchase. All caterers have demonstrated to the local council their satisfactory compliance with food hygeine regulations.
Hand Sanitising Facilities
Hand sanitising facilities will be available near all 3 entrances, the public conveniences, the food outlets and the bar. We encourage you to bring your own personal saniser gel. (250ml max).
Licensed Bar Facilities
To ensure this event remains a safe family environment, controlled access to alcohol (and only to adults aged 18+) More Radio has secured a licence to serve alcohol during this event and this will be operated by the Proto Restaurant Group on our behalf. *If under the age of 25 please bring ID. Please Note: The bar will be open from 5pm. NOTE: Last orders will be 10.30pm and the bar will close at 10.45pm, allowing a 15 minute drinking up time, ahead of the event closing at 11pm. Remember the bar will be CASH ONLY.
Litter
More Radio will be paying Adur & Worthing Council to supply large refuse bins and they will do a comprehensive litter pick at first light the following morning. However, we would ask you to take home your rubbish and recycle responsibly. This is the best way to manage this environmentally, it also minimises the cost for the litter pick as these costs are ultimately factored into the ticket price.
Lost Children
Any lost children should be directed to the 'Information Point' on the western side of Steyne Gardens, approx 25 metres south of the stage line. Announcements will be made from the PA where necessary and as soon as possible.
Lost Property
Any lost property found during More Radio Live should be handed in to the nearest SIA registered security personnel (they will have high visibility jackets on will carry ID). Any items will then be looked after by a member of our team at the 'Information Point' (on the western side of Steyne Gardens, approx 25 metres south of the stage line). Should items not be claimed on the night, they will be held securely by More Radio for 7 days. After this period any unclaimed items will be handed over to Worthing Police station in Chatsworth Road. To claim an item after the event, please call the More Radio office on 01903 221890 (from Monday 24th July at 9am).
Map
A map of the layout of Steyne Gardens, for More Radio Live, can be seen here

Money
The concept of making this event cashless for your convenience and as Covid safe method of payment is something we favour, however mobile data availability at Steyne Gardens can become limited at the attendence levels at this event. Therefore please bring cash. Note: Some retailers, not all, will have contactless payment devices with them and "if" they are reliable then this "may be" possible, but not guaranteed. Note: The public bar and any remaining tickets sold at the gate will be CASH ONLY.
Pets
We regret, with the exception of assisted Dogs (in the disabled guests area) we cannot permit any pets to attend the More Radio Live. This is in the interest of Health and Safety of all guests and the well being of pets.
Picnics
You are welcome to bring a picnic, but do remember our rules regarding drinks. Sealed soft drinks in plastic bottles (no cans or glass) and no alcohol can be brought in No BBQs allowed. For security reasons please refrain from bringing a hamper, please use holder bags.
P.S. Don't forget your blanket!
Public Transport Directions
Steyne Gardens is a short distance from Marine Parade (near the Pier and Dome Cinema) where most bus services stop. Worthing Coaches will be running a dedicated coach service to and from More Radio Live from a number of residential areas. For details click here
The National Express coach service linking London and Worthing also stops at the Dome. Worthing railway station approx 15 minutes walk (taxis are available). Public transport information see www.traveline.org.uk
Security
More Radio Live will be patrolled by SIA licensed security staff and Sussex Police. In the event of any behavior which is considered to be to the detriment of the pleasure of others or pose any health and safety risk will be required to leave. We also reserve the right to search anyone entering the More Radio Live.
Terms and Conditions
Please note by purchasing a ticket(s) you are agreeing to our (More Radio) terms and conditions of sale. This also states our Covid policies to review these, please click here. Please note these terms and conditions may need to be revised close to the event, so please check again in the days leading up to the event.
Tickets
Tickets to More Radio Live 2021 can ONLY be bought online here on this website (button below). Please note, whilst you purchase the ticket online and you will get an email "voucher" this is NOT your physical ticket. Your physical tickets will be posted to you 7-10 days prior to More radio Live. Please note the price is the same for adults and children*.
*Except 5 and unders are FREE and do not require a ticket.
If we have any tickets left for sale on the day they will be charged at £18 each (cash only) from the More radio van located on the South West Corner of Steyne Gardens. Pre-booked tickets will be available from this same location. See map.
Toilet Facilities
These will be located at the Southern end of Steyne Gardens. An additional accessible toilet will be located within the disabled area.
VIP tickets
Vip tickets aren't generally available for purchase to the general public. We do sell a very limited number of VIP tickets as part of corporate hospitality to businesses only, this package usually includes some advertising. If you own a company and wish to find out more, please contact us using the details given under contact us above.
Still have a question about More Radio Live? Just let us know using the form below and someone will get back to you as soon as possible.

Your News
It's easy to get in touch with the More Radio News team.