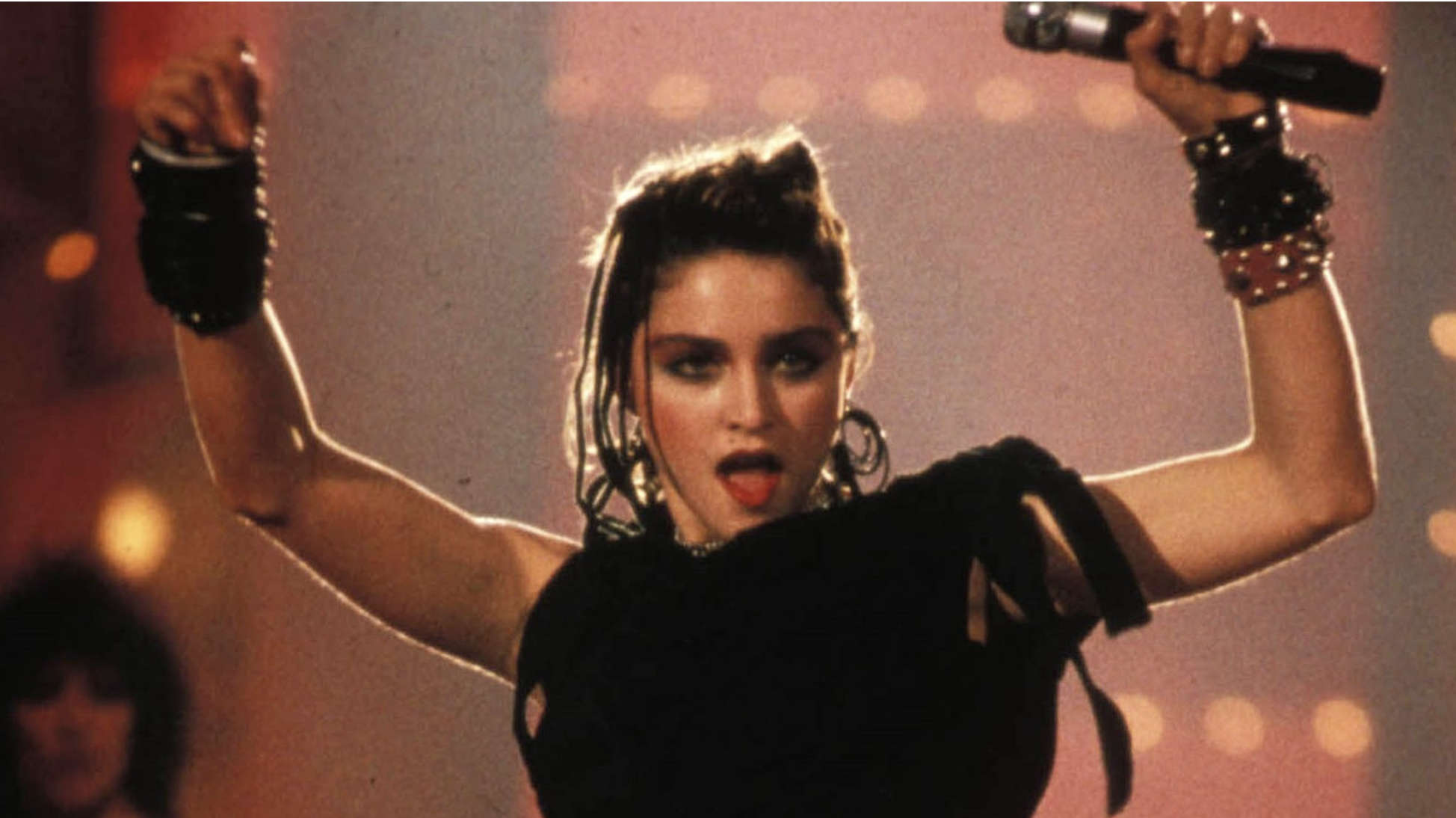 Madonna is celebrating 40 years since her 1983 album debut. Pic: Mediapunch/Shutterstock
Madonna has announced a major world tour marking her 40th anniversary, including a show at London's O2 Arena.
The announcement comes after weeks of speculation the Queen of Pop had been planning something big to celebrate her career since the release of her self-titled debut album, which launched her on the path to stardom with hits including Holiday, Lucky Star and Borderline.
Writing on Instagram - after previously clearing her page to make way for the news - Madonna simply said: "Come join the party!" In a statement sent to Sky News, she said:
"I am excited to explore as many songs as possible in hopes to give my fans the show they have been waiting for."
The Celebration tour will feature the 64-year-old artist's four decades of greatest hits, starting in Vancouver, Canada, on 15 July. The star will play gigs across Canada and the US between July and October, before starting the European leg at the O2 on 14 October.
She will follow this with shows in cities including Barcelona, Paris and Berlin, before finishing in Amsterdam on 1 December.
As the announcement was made on big screens in London, Madonna also released a video featuring stars including Diplo, Judd Apatow, Jack Black, Lil Wayne and Bob The Drag Queen, culminating with Amy Schumer daring the star to go on tour and perform her four decades of mega hits.
Madonna is one of the biggest-selling artists of all time and the best-selling female artist in the world, holding numerous records in the US and UK - with 13 number one singles in the UK she has more than any other female artist, as well as 12 number one albums.
In 2022, she became the first woman to chart in the US Billboard top 10 in every decade since the 1980s.
Over the years she has been known for continuously reinventing her music and her image, with hits including Like A Virgin, Into The Groove, Papa Don't Preach and Like A Prayer in the 1980s; Vogue, Justify My Love, Erotica and Frozen in the 1990s; and Music, Hung Up, Sorry and collaborations with Britney Spears (Me Against The Music) and Justin Timberlake (4 Minutes) in the 2000s.
Her first greatest hits album, The Immaculate Collection, released in 1990, is one of the best-selling albums of all time, with reported sales of around 30 million. Overall, she is reported to have sold up to 300 million records worldwide.
She was inducted into the Rock And Roll Hall Of Fame in 2008, her first year of eligibility, described in her introduction as "the record-setting, line-crossing, sexuality-flaunting, ever-evolving Material Girl".
It continued: "Madonna is an icon. With her larger than life persona and penchant for provocation, she needs no introduction."
As well as her music, the star is almost as famous for pushing boundaries with fashion and her choices of explicit outfits over the decades.
In the early days of her career, she pioneered the "underwear as outerwear" trend by wearing a corset bodysuit with conical bra cups, designed by Jean Paul Gaultier.
And in 2016, she attended the Met Gala in a bondage-inspired Givenchy outfit featuring leather, lace, thigh-high boots, a thong and nipple pasties.
In 2021, she hit out at Instagram for taking down provocative photographs in which her nipple was exposed, saying:
"It is still astounding to me that we live in a culture that allows every inch of a woman's body to be shown except a nipple. As if that is the only part of a woman's anatomy that could be sexualized. The nipple that nourishes the baby! Can't a mans nipple be experienced as erotic ??!!"
Tickets for The Celebration tour will go on sale on Friday.

(c) Sky News 2023: Madonna announces major world tour to mark 40th anniversary