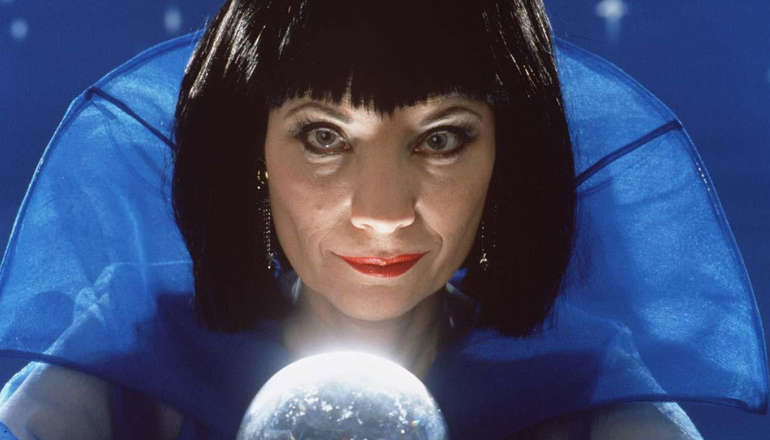 (c) Sky News 'Mystic Meg' Margaret Lake was a regular on the BBC as well as writing a column in The Sun
Margaret Lake, known as Mystic Meg, has died aged 80.
The astrologer had written daily horoscopes for the Sun for almost 23 years.
The paper reported that she was admitted to St Mary's Hospital in Paddington, London last month suffering from flu. She died at 3.45am this morning.
Her agent of 34 years Dave Shapland told the Sun:
"Without any question, she was Britain's most famous astrologer by a million miles.
"Nobody came close to Meg in that respect. She was followed by millions in this country and also around the world.
"She even became part of the English language - if a politician, somebody from showbiz or ordinary people in the street are asked a tricky question they will say 'Who do you think I am, Mystic Meg?'
"It shows what an impact she made."
Mystic Meg was born on 27 July 1942 in Accrington, Lancashire.

She received a teacher's diploma from the university of Leeds.
She did not go into teaching and instead worked as a sub editor on a women's magazine.
She also wrote erotic stories and worked as a journalist at the now-defunct News of the World magazine.
She started her phone-line horoscope readings in 1989 and soon became a household name.
She was also a feature on the National Lottery TV show in the 1990s when she would appear on stage and with her crystal ball to predict who would win the weekly jackpot.
Her horoscopes and clairvoyant messages captured the imagination of the public and she received huge amounts of correspondence - particularly from angry Manchester United fans who were angry Mystic Meg predicted their team would lose to Everton in the FA Cup final in 1995.
Original story: Mystic Meg, One Of Britain's Most Famous Astrologers, Dies Aged 80