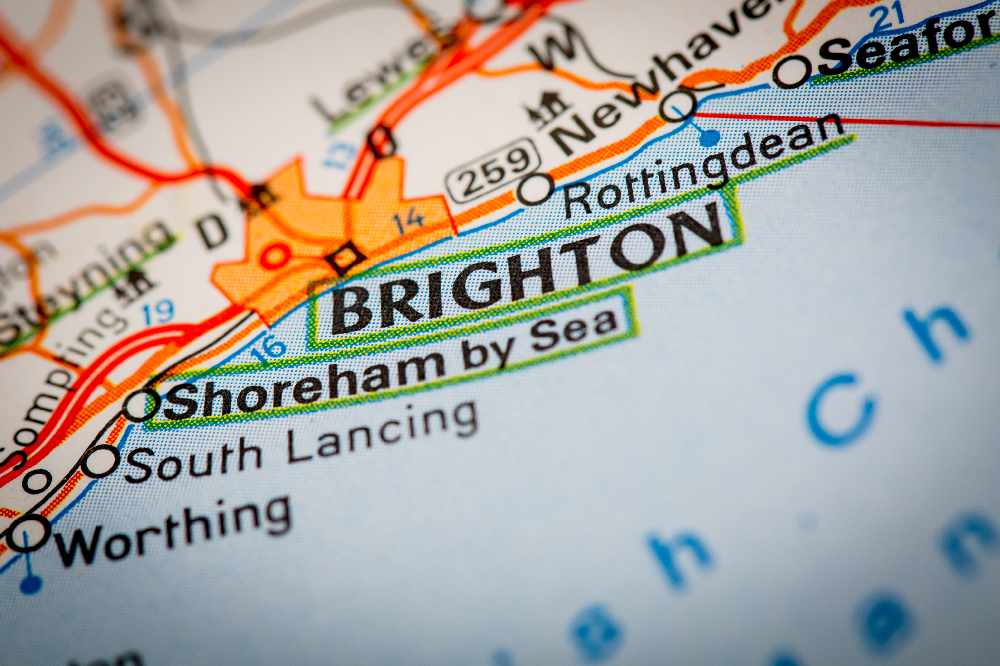 Brighton has been identified as the most attractive location for an out-of-London office.
A survey of 250 large businesses (all with more than 250 employees) in central London has found many are keen to work more flexible hours in more flexible locations.
Figures showed that nearly a third of the companies were considering opening up a so-called 'satellite office' away from London.
And Brighton has come out tops for many workers, beating cities such as Oxford, Cambridge, Royal Tunbridge Wells and Reading to the top spot.
Already voted one of the UKs best places to live and work and one of the happiest, it has attracted many start-ups recently, particularly in innovation, creative, gaming, digital and tech sectors, earning it the name 'Silicon Beach'.
As many large businesses move away from the city, the economy here is set for a boost, however the lack of office space in the city is set to prove problematic.
A separate survey of 250 senior decision makers in Brighton-based businesses (with 30 employees or more) found that nearly a third (32%) say that a there is a lack of quality office space in the city to support growth. A fifth (24%) said shortage of supply was leading to an increase in office rents.
According to office property agent Knight Frank, demand outstrips supply in the city, partly due to commercial space having been converted into housing.
And despite two of Brighton's largest ever regeneration schemes being in the pipeline, that's just two new Grade A offices due to complete in the coming 12 months - U+I's Circus Street and Plus X at Preston Barracks.
U+I, in partnership with Brighton & Hove City Council is bringing forward the £130m Circus Street and £300m Preston Barracks, which is home to Plus X. Circus Street includes 30,000 sq ft of Grade A office space.
Plus X is a seven storey innovation hub with state of the art workspace for creatives, scale-ups and large corporates.
The survey, led by U+I and global insight consultant Censuswide, found that 82% of respondents agree that the pandemic is likely to lead to more central London businesses adopting some form of a hub and 'spoke' office model (creating a smaller central London office hub with satellite office(s) out of central London). 32% of respondents are actively considering this decentralised model for their business.
The survey stated:
"Overall, Brighton emerged as the most attractive location, with respondents citing its strong talent pool, quality of life, inclusivity and diversity, good transport links, proximity to London, and lower cost of living."
In 2020, it was ranked as the second the best city in the UK to start a business by the Unleashing Great British Enterprise report.
High profile Brighton start-ups include Marina Tex, a compostable plastic alternative made from seaweed, whose founder Lucy Hughes won the James Dyson Award for innovation, and crowdfunding platform Shadow Foundr.
Last year high-tech innovation hub Plus X opened with the aim of fostering Brighton's start-up and scale-up economy, with £5.5m in government funding via the Coast to Capital Local Enterprise Partnership to deliver BRITE, a three-year programme of business and innovation support.
Plus X now has 117 businesses in situ, with the BRITE programme providing support for 38 businesses.
Richard Upton, chief executive officer, U+I, said:
"No one truly knows how the future of work will pan out post pandemic, but what's clear is that business leaders are giving a great deal of thought to enhanced flexible working, giving greater agency to employees, improving productivity and work life balance.
"Like all employers, we're doing the same, and are exploring options for the future of our own central London based office. As a developer bringing forward major schemes in London, including office space, we firmly believe in the future of the capital.
"But we think certainly for some businesses, the nature of the office and how it's used will change, becoming more a hub for creative and collaborative work, rather than the default location where work gets done.
"This survey shows many central London business leaders think the same, with nearly half favouring some form of hub and spoke model or hybrid working. It comes as no surprise to us that Brighton is identified as the number one location for businesses to open an alternative office outside of central London.
"We've long believed in the potential of Brighton, as evidenced in our commitment to the Circus Street and Preston Barracks developments - and it was the strength of the city's enterprise culture that saw us choose Brighton as home to our first Plus X innovation hub.
"The only thing that can hold Brighton back now is a lack of supply contemporary office space. This is true of many towns and cities around the UK that have huge potential to benefit from post-pandemic changes in working patterns and lifestyles.
"The demand is unquestionably there from occupiers and we expect it to only grow as London businesses evolve their office strategies. We will be determined to help support that growth now and into the future."
Mat Hunter, co-founder, Plus X Brighton, said:
"Brighton is an outstanding location to both start and build a business and now has a real opportunity for further growth as we move out of the pandemic. For too long the city has been considered by some as a lifestyle commuter hub to serve central London, but it is so much more than that, as the incredible array of entrepreneurs and SME talent in Plus X demonstrates.
"As this survey shows, the trend to much greater flexible working and a shift to a hub and spoke model post pandemic gives Brighton a great opportunity for further growth, expanding as a home for existing entrepreneurial talent and a hub for start-ups and scale-ups, but also as a future location for 'spoke' offices for larger central London businesses, looking to attract talent that has moved out of London. The future of the city is undoubtedly bright."
Sarah Springford, CEO, Brighton Chamber, added:
"Brighton ticks so many boxes when it comes to running a business or setting up a satellite office. As well as being well known for its entrepreneurial and creative business community, the city is brimming with innovation and talent thanks to its two great universities.
"Right now business owners are looking at new and more sustainable ways of working, and they want quality office space for collaboration. It's fantastic to have new workspaces like Circus Street and Plus X and offering workspace to companies at every stage of their journey, from start-ups to established corporate organisations.
"State-of -the-art workspace is adding a vital ingredient and taking the city's economy to a new level."
Councillor Phélim Mac Cafferty, Leader of Brighton & Hove City Council, added:
"This is great news for Brighton & Hove. With more people working locally instead of commuting, a better work life balance can be struck, travel and its associated pollution is reduced, as new workspaces help keep talent in the city.
"The city will also benefit from more, high quality jobs - with workspaces enabling our continued and well-deserved reputation as a place where start-up businesses thrive.
"We are celebrating this as a powerful opportunity to help the city punch above its weight as we recover from the pandemic.
"And we will continue to encourage businesses to choose the city for their satellite offices - and as a location where talent can be harnessed and new jobs and opportunities created."