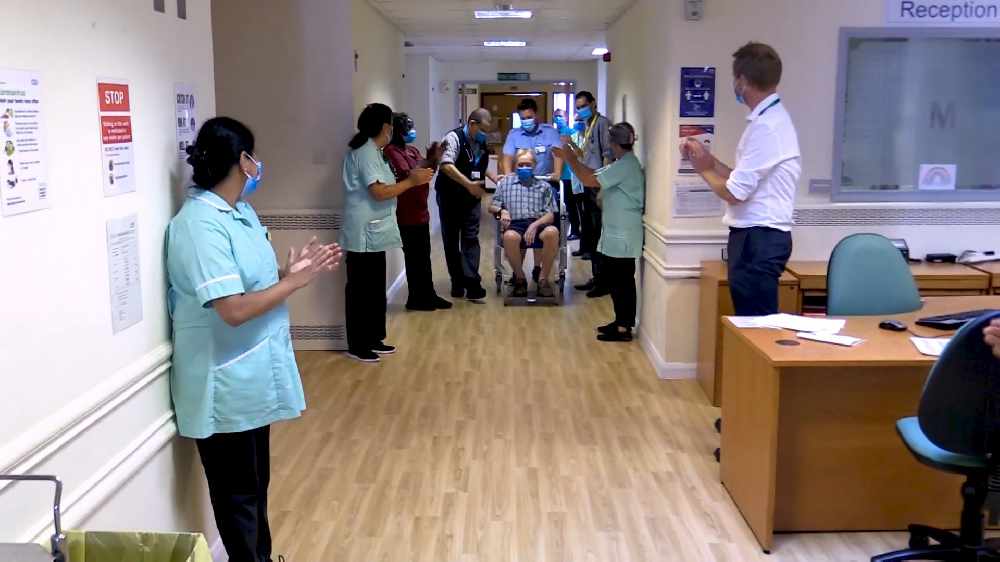 Patient Steve Honeyball leaves Eastbourne's DGH after a 97-day Covid-19 recovery
Emotional scenes took place at the Eastbourne DGH, as staff and family cheered Steve Honeyball on his discharge from hospital after 97 days recovering from Covid-19.
The East Sussex Healthcare NHS Trust, which runs the hospital in Eastbourne and the Conquest in St. Leonards said Steve was admitted in mid-March and spent 53 days in critical care.
His spell of 97 days in hospital is the longest of any recovering Covid-19 patient at the Trust.
Staff reported that Steve Honeyball said:
"Right from my admission into critical care to leaving hospital, everyone has been brilliant and played their part.
"I can't express my thanks enough to the amazing doctors, nurses and physiotherapists who kept me alive with their skill and dedication.
"I could not have been in better hands. I will miss everyone; they have become my friends and given me the determination to get better.
"I am so glad to be going home after all this time to be with my family and my dog Charlie. Thank you to everyone."
Mandy Honeyball, speaking on behalf of the family, Will, Ben and Charlie the dog added:
"Today is the day we could only dream of. It's been 97 days since Steve went into hospital and thanks to the incredible care of doctors and nurses in ITU, Jevington and Michelham wards, today he comes home.
"We never gave up, they never gave up and Steve certainly did not give up.
"A special thank you to all the physiotherapists, too many to name, who were with Steve throughout; literally every step of the way.
"We are so grateful to every one of them. He is where he is today thanks to you all."
Vikki Carruth Director of Nursing said:
"We are all so happy for Steve Honeyball and his family.
"He has been in our care for long time and during that time so many people have played their part in getting him ready to go home.
"It is a story of determination by Steve himself and the commitment and dedication of so many of our staff who I am extremely proud of.
"On behalf of everyone at the hospital we wish Steve all the best as he continues his recovery at home."
Watch Steve's guard of honour here: