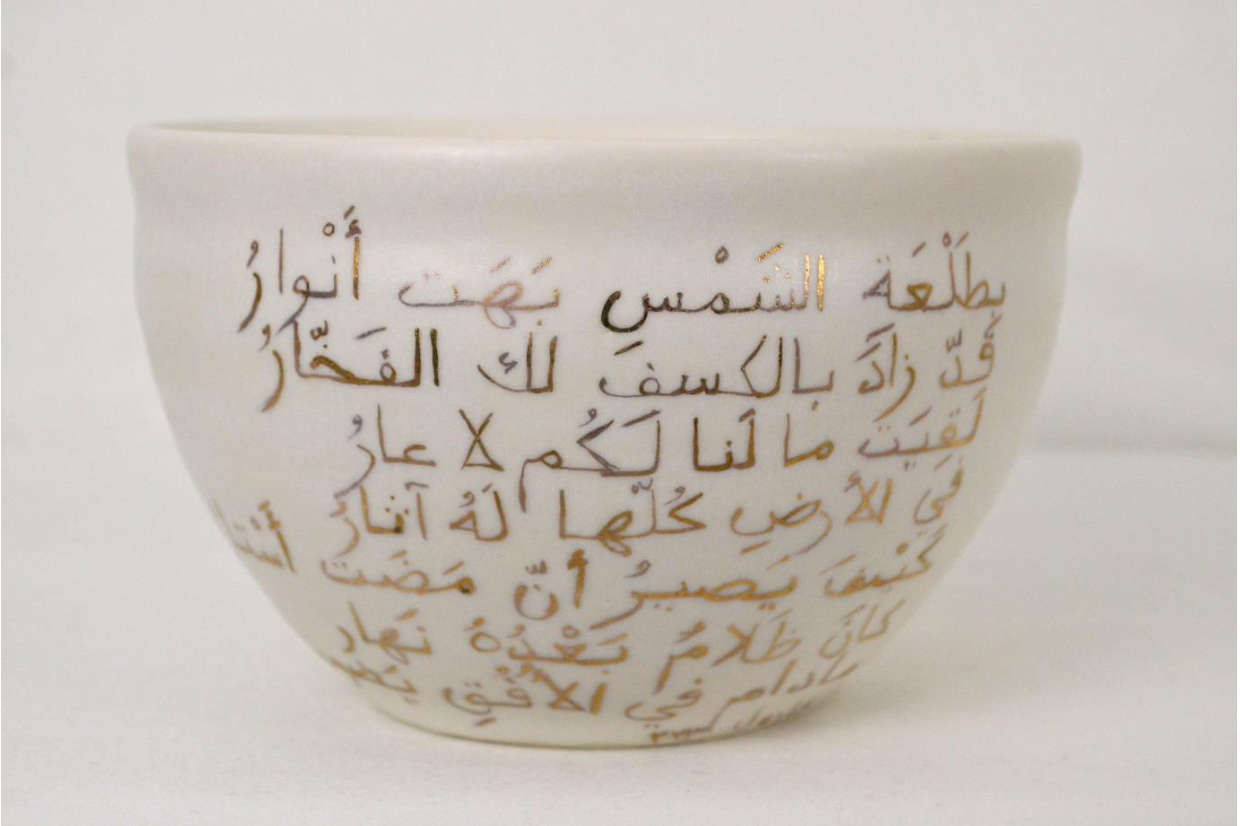 A poem, written in Arabic and translated into Latin to celebrate the Coronation of King Charles II 360 years ago has emerged and been brought back to life in time for the Coronation of King Charles III.
The poem, written by Edward Pococke in 1660 celebrates the return of Charles II to Britain after years in exile following the English Civil War. Pococke was the professor of Arabic and Hebrew at Oxford University and his poem captured the jubilant mood of the nation.
"Your glory is a constant breeze, touching the land from West to East." Edward Pococke, 1660.
The poem has come to light via conversations between Samera Hassan of MEMOs (Medieval and Early Modern Orients), The Bodleian Library and Sussex potter, Carole Bennett.
The Arabic text forms the centrepiece of her latest exhibition, 'Reflections of the Silk Road', which opens at the Royal Pavilion on March 21st. Carole Bennett has used the original text in both Arabic and Latin and inscribed it on a series of six triumphal bowls, named The Coronation Vases.
Carole Bennett is an established artist and calligrapher. She researches ancient and medieval Arabic texts and inscribes them on porcelain bowls and vessels, which are created entirely by hand in her small, rural studio in East Sussex.
"It is a wonderful coincidence, to come across a poem written in Arabic celebrating the coronation of King Charles II when we are about to witness the coronation of our own King, Charles III. It was delightful to discover that a deep fascination and love of the beautiful Arabic language was as alive and well in the early 17th century as it is today.
"The poem is incredibly beautiful, full of joy and optimism and it seemed right to incorporate it into a new body of work, in time for the coronation".
The exhibition celebrates the extraordinary cultural interchange along the length of the Silk Road, from the Mediterranean Coast to Xian in China, that took place for centuries. In this exhibition Carole Bennett has used a range of new glazes and lustres to capture the full richness of the ceramic traditions along the Silk Road
It is open to the public in the William IV room of the Brighton Pavilion on March 21st and 22nd from 10am until 5pm.
All proceeds from the exhibition are being donated to Depaul International, the charity which has been fighting homelessness – one of the most severe expressions of social inequality, poverty and exclusion – for over 30 years, currently across seven countries, including the UK and Ukraine. They support the homeless and marginalised people and are now providing a lifeline to over 30,000 people a day in Ukraine.
Exhibition: Reflections of the Silk Road, 21st and 22nd March 2023 at the Brighton Royal Pavilion, Brighton.