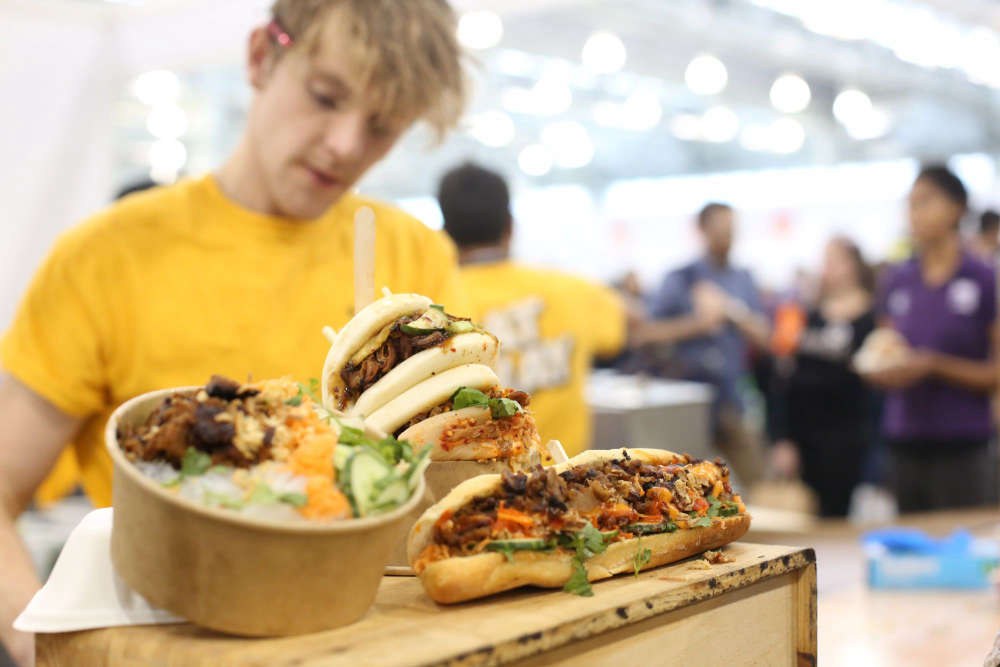 VegfestUK returns to The Brighton Centre this month (April 29 & 30) and entry is free, although visitors will still need to order a ticket.
"Food, fun and inspiration" are all firmly on the menu as over 100 traders and 70 speakers gather together to celebrate the best of the vegan way of life - and share it with thousands of visitors.
With food always the highlight at Vegfest, organisers say there will be a wide selection of vegan options on offer, including the standout Dapper Ice Cream made from cashew nuts with all the trimmings, and the extraordinary vegan cakemaker Giancarlo from Vegan Sweet Tooth with his "incredible creations, visually stunning as well as extremely moreish".
Hot food street caterers include the Brownins family Caribbean flavours plus a new Cypriot Vegan kebab offering from Vebab - It, alongside firm favs including vegan burgers, Greek Mezze, curries, waffles and much more.
And the Yogi Tea Bar brings a flavour of calm and relaxation with their herbal tea garden overlooking the sea, whilst the Cider Bar from Value Africa includes a wide variety of exotic spirits from Africa.
Vegfest also offers entertainment options and this year Karin Ridger's Feel Good Stage two comedy hours, including (vegan) comedians Tom Ward, Adele Cliff, Eddie French and Luke Poulton, with live music and inspirational & motivational speakers, and even a cacao ceremony interspersing the rest of the fun and games. Karin, a long time PR agent and presenter for Vegfest, is ecstatic to be back in Brighton after such a long gap:
"Once again I feel that we are coming home…. In fact I call Brighton my second home. There is nowhere quite like Brighton!
"The people of Brighton embrace VegfestUK and absolutely love our festival – whether they are vegan already, if they are vegan curious or just feel like checking us out – we welcome everyone! And this year of course it is a free event so you can pop in and have a wander around.
"All of us are buzzing about coming back to The Brighton Centre and the atmosphere of this VegfestUK festival is second to none…. And my audience and I always get to hang out with the most fantastic guests… I feel very lucky to connect with the world's leading experts and all thanks to VegfestUK."
"Do come and say hello!"
The six talks rooms will be in use both days and will include Jamaican International and Championship football player Adrian Mariappa, vegan for a few years now, and Welsh Rugby International Lewis Bolding.
Also World Record Holder Kate Strong is making up a very dynamic vegan fitness presence, and an abundance of science based expertise in the Health and Lifestyle areas includes the Plant Based Health Professionals UK for up to date evidence-based approaches to wholefood plant based diets.
The Plant Based Treaty, fresh from seeing Norwich, Edinburgh and Haywards Heath Councils endorse the Treaty this year, are presenting their work for the whole day on Saturday and animals and activism continue to play a central role at Vegfest, the two-day 'Action for Animals' summit, which will include a multitude of national and grassroots campaign groups presenting together, with a focus on Movement Unity.
For many, the stars of the show are the traders and charities exhibiting at the event, with a number of independent vegan businesses at the show including start-ups and new ventures that haven't been seen before in Brighton.
"We've lost quite a few over the last few years," say the organisers, "but have gained some really exciting and fresh up and coming brands that are full of enthusiasm and to some degree intrigue as to how these events can help build their brands."
"We can't wait and it's great to be back and play a part in helping the vegan and plant-based communities get back to full feelgood factor and focus. A huge free vegan event in the centre of town is just the ticket."
------------
Tickets are free but are required in order to attend VegfestUK Brighton at The Brighton Centre.
Opening times are:
10am - 6pm Saturday April 29th
10am - 5pm Sunday April 30th.
Tickets are available from the website and likely to all be allocated by the time the gates open, so securing your ticket ahead of the event is recommended.
www.vegfest.co.uk/brighton-tickets
The event website https://www.vegfest.co.uk/brighton/whats-on/