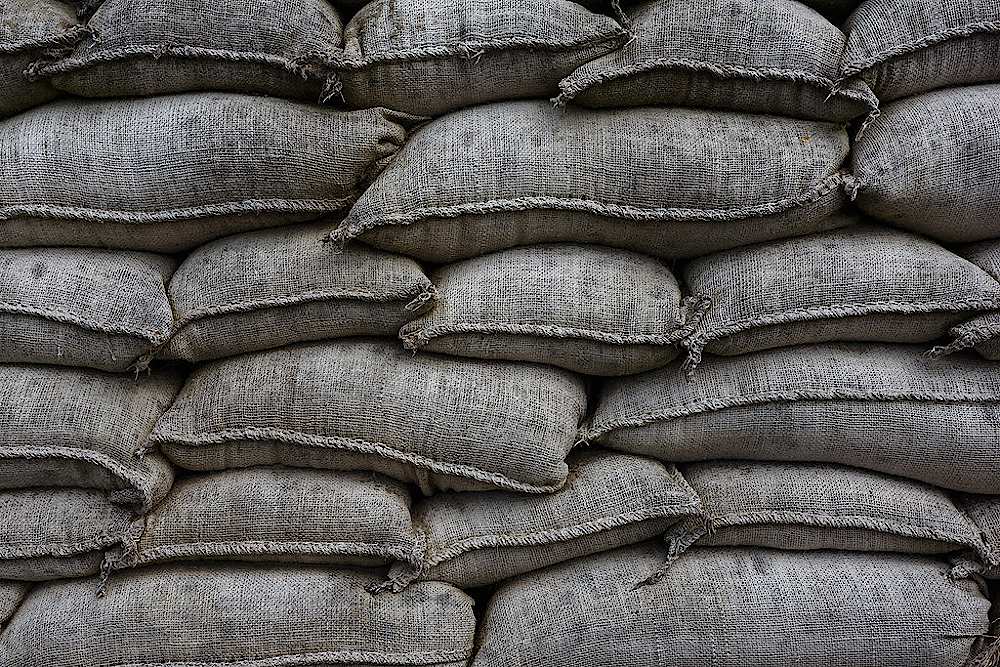 Sandbags used to build a World War I style trench (Photo: © The Friends of Shoreham Fort, Registered Charity 1147869)
Volunteers who maintain 19th century Shoreham Fort have been creating a trench in the style of World War I battlefields, as a memorial to soldiers trained here over a century ago.
As the work to make a permanent trench-style memorial continues, those involved have been releasing details, but delayed, to deter members of the public attending and possibly creating risks related to the spread of Covid-19.
The group who preserve the monument, a registered charity, said:
"Back in 2013-14 we had a vision to create a lasting memorial to the brave boys who were trained on the Downs at the back of Shoreham.
"This vision started to become a reality when in 2014 we were winners of the Adur 'Pot of Gold'.
"Then we were successful in a National Lottery Heritage Fund bid, as part of their First World War Centenary projects.
"Now came the permissions and these were finally received in December 2019."
The group described the purposes behind building the trench:
"During the First World War, Shoreham and the surrounding area housed many soldiers in training camps.
"Training trenches, shooting ranges, and grenade pits were installed to train anything up to 100,000 men at a time.
"We have built this trench as a lasting memorial to all those who trained and left Shoreham, some never to return…
October 11, 2020
"Sandbags have been filled and anyone wishing to sponsor one may now do so.
"Those who sponsor a sandbag will have their names and message recorded and kept for future generations to see."
A daily log of the work, delayed, is being posted on Shoreham Fort's social media.
Volunteers added:
"During that first week, whilst talking to passing members of the public, we began to realise how much this memorial was going to mean to people, personally.
"The praise and positive comments that we were creating something lasting, to those lives lost, really did reiterate that this project was such a very worthwhile and truly significant cause.
"Also, having the personal dedications coming through with the sandbag sponsorships is incredibly moving. These dedications are going to be recorded for future generations to see."
The team creating the trench, and maintaining Shoreham Fort, have invited the public to sponsor their work, by following instructions to be found by clicking here.