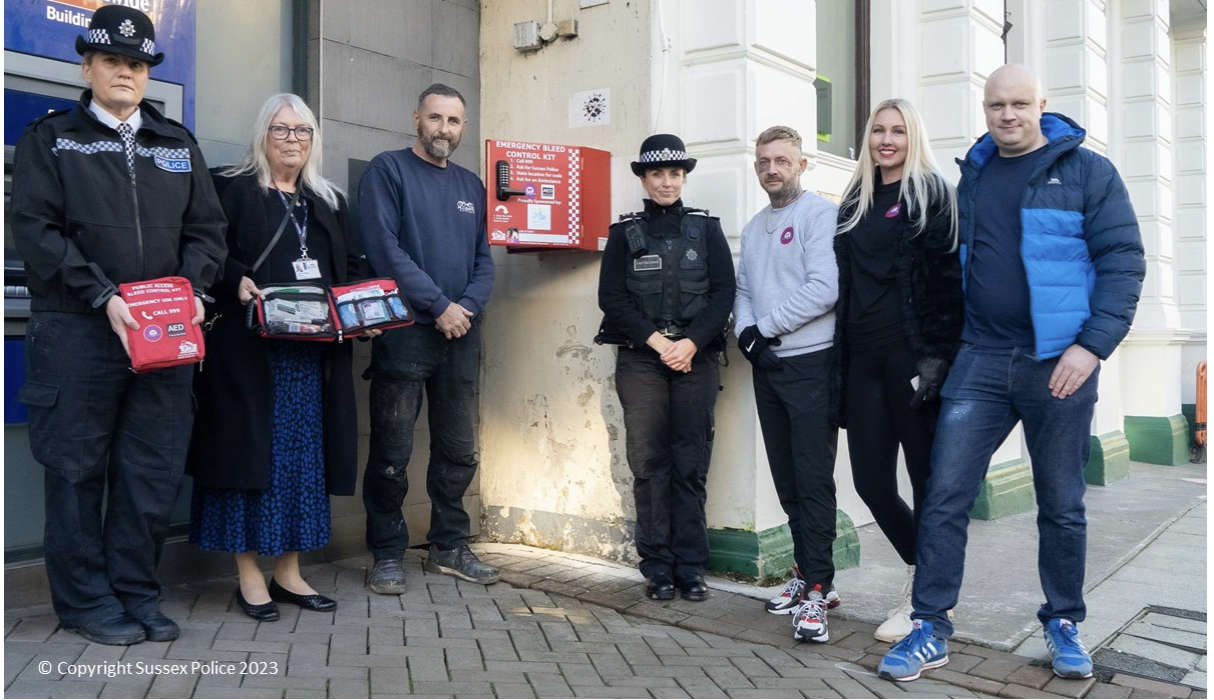 The Safer Hastings Partnership has funded four bleed control kits for Hastings.
These kits are designed to prevent catastrophic blood loss while waiting for the paramedics to arrive.
The first cabinet was installed on the wall of Lloyds Bank in Wellington Place on Wednesday, November 15 with the other three due to be installed shortly. These will be located in:
Norman Road – at the junction of London Road, on the Post Office wall (W3W – punch.horn.gentle).
George Street – on the wall at Butlers Gap, next to the Old Town notice board (W3W – slips.snows.caged)
Havelock Road – outside Lacuna Place/Tesco Express (W3W – mining.frozen.limes)
Hastings is the first town in Sussex to have a town-wide plan for these kits, which contain vital life-saving equipment, including dressings, chest seals, tourniquets, gloves, and scissors. Enabling members of the public to help stem bleeding in the minutes after an incident.
To access the kit, people should call 999, and a call operator will provide an access code. They will then provide instructions on how to use its contents.
These four new cabinets are due to tireless campaigning by Carl Scott, Co-Founder and Manager of Project Youth Official, who in May organised the installation of the first bleed control kit in the county at Queens Square, Priory Meadow Shopping Centre.
Cllr Judy Rogers, lead for Community Safety at Hastings Borough Council, said:
"These cabinets have been installed across the country and contain vital life-saving equipment that helps to stem extreme blood loss before ambulance crews arrive. As a partnership, we are grateful to have been able to fund these new cabinets. We hope they are never needed, but if they are, they could make a huge difference to the outcome.
"I have been pleased to work with partners to promote and make this project happen and would like to thank Carl Scott, Co-Founder of Project Youth Official, who has dedicated so much time and energy to bringing these kits to Hastings, helping to make our community a safer place.
Carl Scott, Co-Founder and Manager of Project Youth Official, explained:
"We are dedicated to keeping our community as safe as possible whether that be young people or adults and having these cabinets in our town would give someone a fighting chance of survival if they were to be unfortunate enough to have a serious injury. We would like to thank Hastings Borough Council and Sussex Police for supporting us through this journey."
Sergeant Rob Hart, Sussex Police's Force Co-Ordinator, Operation Safety (Knife crime and serious violence), added:
"Partnership working is vital in reaching and engaging with our communities across Sussex and we are pleased to work with Project Youth Official, the local council, and all other members of the Safer Hastings Partnership.
"Reducing serious violence is a police priority and we are continually working to tackle this. Knife crime has tragic consequences and leaves a devastating impact in its wake, affecting victims, loved ones, and whole communities.
"The bleed kits provide the local community with the tools to prevent catastrophic blood loss in a variety of situations and could save lives."
The Safer Hastings Partnership works to tackle street related crime and Anti-Social Behaviour, modern slavery, human trafficking, Violence Against Women and Girls and domestic abuse experienced by all genders, while also ensuring that those with substance misuse issues are fully supported.
Partners working together to combat these issues include Hastings Borough Council, East Sussex County Council, East Sussex Fire and Rescue, Sussex Police, the Sussex Police and Crime Commissioner, Hastings Community Network, Southern Housing, Change Grow Live, Love Hastings, Probation Service, and NHS Sussex.